Where Will You Find Tokai Spring's Products?
TOKYO SKYTREE®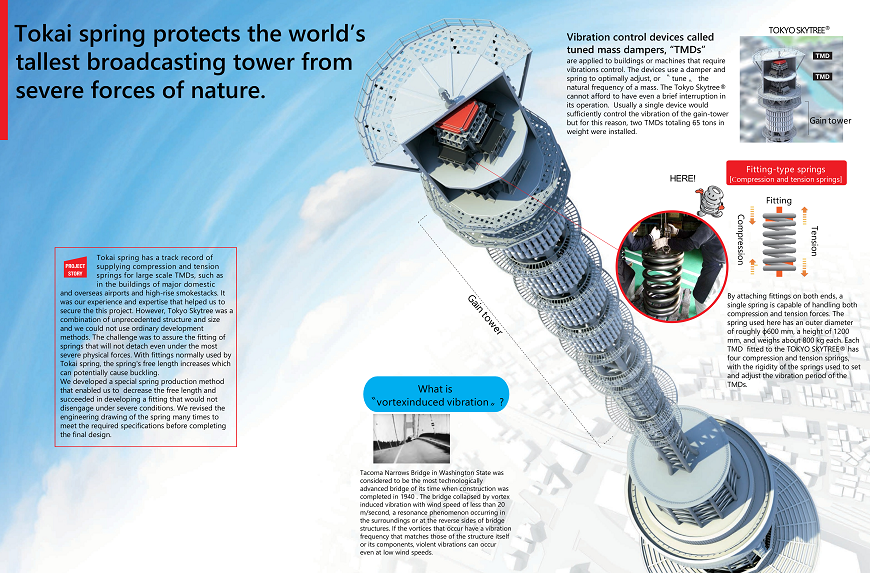 The 634meter TOKYO SKYTREE® is the tallest freestanding broadcasting tower in the world. This tower has to withstand severe forces of nature, such as wind, rain, snow and earthquakes.
The gain-tower that is at the very top of the Tokyo Skytree transmits TV signals of digital terrestrial TV broadcasts as well as smart phone signals. The gain-tower itself is almost 140 m tall, as high as a 30-story building. A gain tower of this scale is constantly exposed to various forces of nature such as wind, rain, snow and even earthquake vibration.
TOKYO SKYTREE® was designed to withstand gale force winds of up to 110 m/sec, which is estimated to happen once in 1300 years. However, even wind speeds of 10 to 15m/sec can create a resonance phenomenon called "vortex induced vibration". Vortex induced vibration can sometimes cause violent swaying of the tower as well as structural damage.
At the very top of the gain-tower, vibration damping devices called "TMDs" are installed to mitigate vortex induced vibration. This advanced vibration damping technology was made possible with Tokai spring's fitting type springs (compression and tension springs). A single fitting spring can mitigate both 〝push〟 and 〝pull〟
forces, so that it can dampen any type of vibration.
The springs used are exceptionally large, weighing almost 800 kg each. When you visit TOKYO SKYTREE® we hope you will keep in mind that Tokyo's new landmark, built to herald Japan's new age of broadcasting, is sustained by our fitting type springs mounted 620 meters high above Tokyo's skyline.
What is 〝vortexinduced vibration〟?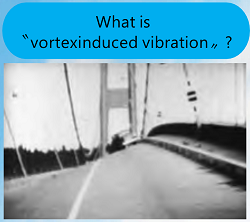 Tacoma Narrows Bridge in Washington State was considered to be the most technologically advanced bridge of its time when construction was completed in 1940 . The bridge collapsed by vortex induced vibration with wind speed of less than 20 m/second, a resonance phenomenon occurring in the surroundings or at the reverse sides of bridge structures. If the vortices that occur have a vibration frequency that matches those of the structure itself or its components, violent vibrations can occur even at low wind speeds.
Vibration control devices called tuned mass dampers, "TMDs" (Tuned Mass Damper)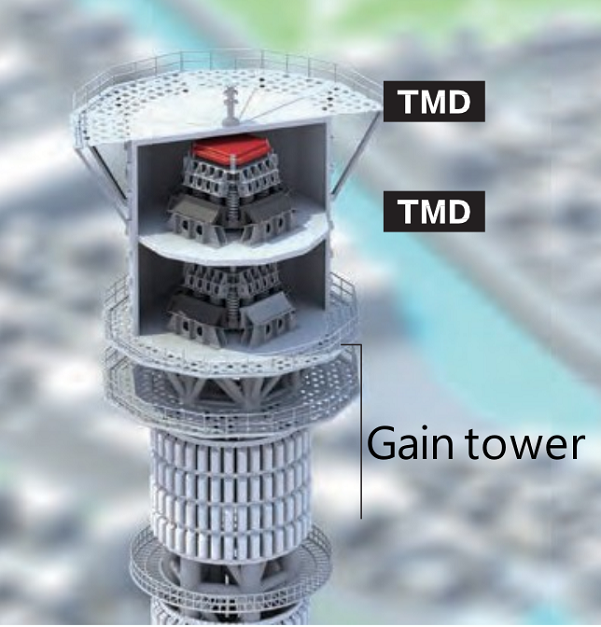 Vibration control devices called tuned mass dampers, "TMDs" are applied to buildings or machines that require vibrations control. The devices use a damper and spring to optimally adjust, or 〝 tune 〟 the natural frequency of a mass.
The Tokyo Skytree® cannot afford to have even a brief interruption in its operation. Usually a single device would sufficiently control the vibration of the gain-tower but for this reason, two TMDs totaling 65 tons in weight were installed.
The key device of TMDs! – Fitting-type springs [Compression and tension springs] –
By attaching fittings on both ends, a single spring is capable of handling both compression and tension forces. The spring used here has an outer diameter of roughly ϕ600 mm, a height of 1200 mm, and weighs about 800 kg each. Each TMD fitted to the TOKYO SKYTREE® has four compression and tension springs, with the rigidity of the springs used to set and adjust the vibration period of the TMDs.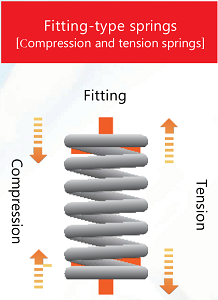 PROJECT STORY
Tokai spring has a track record of supplying compression and tension springs for large scale TMDs, such as in the buildings of major domestic and overseas airports and high-rise smokestacks. It was our experience and expertise that helped us to secure the this project. However, Tokyo Skytree was a combination of unprecedented structure and size and we could not use ordinary development methods. The challenge was to assure the fitting of springs that will not detach even under the most severe physical forces. With fittings normally used by Tokai spring, the spring's free length increases which can potentially cause buckling.
We developed a special spring production method that enabled us to decrease the free length and succeeded in developing a fitting that would not disengage under severe conditions. We revised the engineering drawing of the spring many times to meet the required specifications before completing the final design.
Brimming with Expertise Gained from Our Vast Track Record
The design of springs for construction and seismic isolation is extremely demanding and a great amount of expertise is required to manufacture these highly complex springs. We propose designs to our customers that make the best use of our expertise cultivated from our extensive track record! I want to ensure the durability of my springs! I want to check the performance of my springs! I want a custom-made spring! I want you to make a prototype starting with a single spring! If you have any requests like those above, please feel free to contact us! Click here to contact us.
Where Else Will You Find Our Springs?
・Vibratory hammers
・Bridge damping
・Shield machines
・Chimneys
・Seismic base isolation
Springs used for all kinds of construction and seismic isolation applications such as:
Vibration control device
Shield machine
Bridge