Other Places You Will Find Tokai Springs
Power Plant Turbines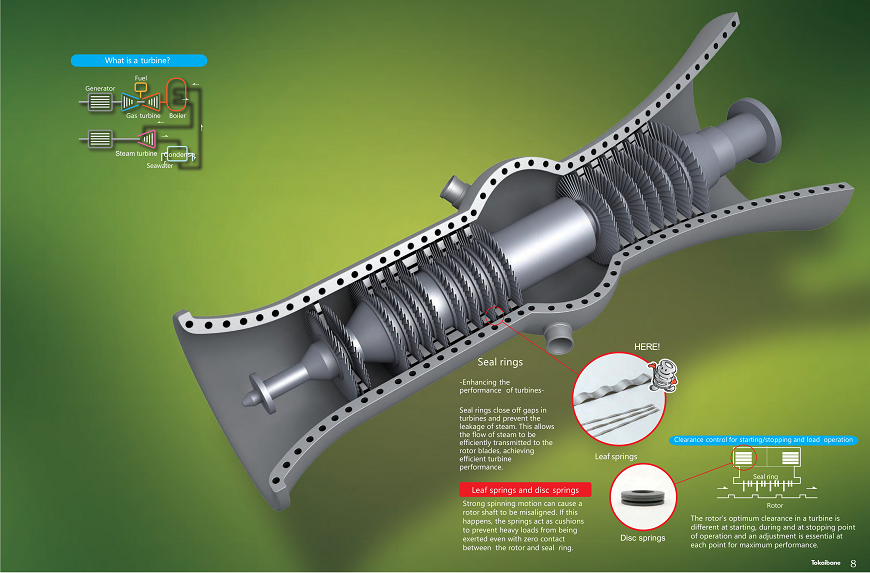 Electric power cannot simply be drawn from thermal or nuclear power as is. Rather, power generation requires a machine known as a 〝prime mover〟to convert heat energy into mechanical energy. In power plants, this crucial role is played by gas turbines and steam turbines, whose work is in turn supported by springs.
Energy from high pressure gas and high pressure steam, created by thermal and nuclear power, can only be transmitted to generators after it generates rotary motion through turbines. Turbines are machines containing bladed rotors which operate much like the vanes of a windmill. However, turbine rotors are not moved by the wind, but by high temperature, high pressure gas and steam created from an enormous amount of energy. To achieve efficient use of energy, turbines have to withstand enormous temperature and pressure. This task is performed by Tokai spring's leaf springs. Acting as cushions for the contact between rotors turning at high speeds andcomponents components called 〝 seal rings 〟 which prevent steam leaks, these springs serve to protect turbines and achieve stable and enhanced power generation. People do not see flat plate springs often in their daily lives, but these springs play a crucial, behind the scenes to maintain our society's energy supply.
What is a turbine?
Steam turbines and gas turbines are known as "prime movers". Turbines have the function of converting various types of energy into mechanical movements. Passing through these turbines, high pressure gas or steam created by thermal or nuclear power can be converted into electricity.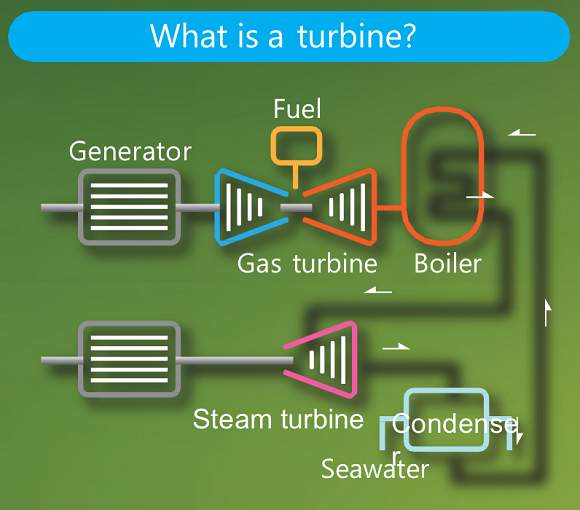 -Enhancing the performance of turbines-
Seal rings close off gaps in turbines and prevent the leakage of steam. This allows the flow of steam to be efficiently transmitted to the rotor blades, achieving efficient turbine performance.
-The key to seal rings! Leaf springs & disc springs-
Strong spinning motion can cause a rotor shaft to be misaligned. If this happens, the springs act as cushions to prevent heavy loads from being exerted even with zero contact between the rotor and seal ring.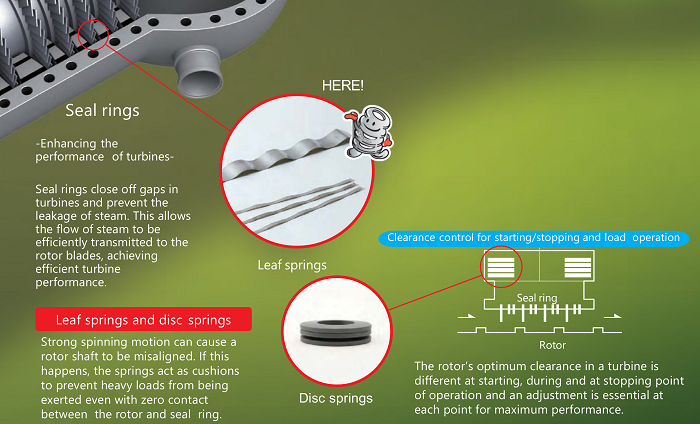 Clearance control for starting/stopping and load operation
The rotor's optimum clearance in a turbine is different at starting, during and at stopping point of operation and an adjustment is essential at each point for maximum performance.
PROJECT STORY
Steam and gas turbine springs are consistently exposed to very high
temperatures. The maximum temperature a turbine spring can withstand is determined by the material used for the spring. There is a variety of heat-resistant steel materials available but only a small number of materials can satisfy the required properties to bend and
then recover its original shape. That is why Tokai spring is committed to continuously investing and researching in the development of new production technologies such as heat treatment methods which bring out the characteristics of a spring in normally heat-resistant steel, or whatever other performance properties our customers .
Brimming with Expertise Gained from Our Vast Track Record
Springs for power generation turbines are subject to extremely harsh usage environments, such as being exposed to high temperatures, and what's more, the required spring characteristics must be highly accurate. For this, spring design and manufacturing requires various expertise. We propose designs to our customers that make the best use of our expertise cultivated from our extensive track record! I want to ensure the durability of my springs! I want to check the performance of my springs! I want a custom-made spring! I want you to make a prototype starting with a single spring! If you have any requests like those above, please feel free to contact us! In particular, based on our leaf spring design and manufacturing expertise nurtured through our experience with power generation turbines, we can solve the problem of leaf springs breaking even after many trials and any concerns you may have about how to fix leaf springs in place. We will also answer any questions you may have such as, 'Is it possible to make a leaf spring with this kind of shape?' and 'What kind of methods do you use to make them?' Click here to contact us.
Where Else Will You Find Our Springs?
Where Else Will You Find Our Springs?
• Gas and steam turbines
• Hydro turbines
• Substation disconnectors
• Fuel cells

Substation disconnector
Hydropower
Wind power