High quality custom-made springs by nationally certified craftsmen
The most important thing in making springs is craftsmanship. Here we introduce techniques for making springs by hand that should be passed on to the next generation.
High quality, custom-made springs by nationally certified craftsmen
We, Tokai Spring, value our unique made-to-order system that is able to supply high-quality springs at even an extremely small production quantity of 1 to 5 springs. To be able to have this production system in place, a high-level of craftsmanship is required. To manufacture high-quality springs with the proper stress according to the design drawings, the national qualification of "Professional Engineer in Metallic Spring Manufacturing" is required. We have many qualified personnel on our roster, and we continue to produce high-quality springs that are entirely custom-made and can only be made by hand.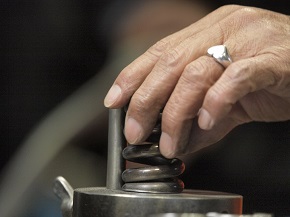 We Conduct In-House Skill Proficiency Tests to Pass on Skills
In addition to the "Professional Engineer in Metallic Spring Manufacturing" national qualification, we have established our own qualification system in-house and have established the core know-how of more advanced and precise spring manufacturing. We train individuals, pass on techniques to the younger generation, and have a system in place that enables clients to re-order any springs, no matter how many years later. We believe that passing on techniques is also a quality assurance promise to our clients.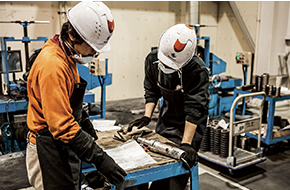 Successful mechanization of craftsmanship
The basics of spring manufacturing lie in manual labor skills. However, we don't simply rely on manual labor, as we have, for the sake of production efficiency, succeeded in developing "YUKI", a super coiling machine that incorporates the skills of our craftsmen's advanced manual labor into a machine to replicate our craftsmen's techniques while maintaining high quality. The heated steel material is made into a coil spring by winding it around a mandrel at an appropriate angle depending on the size. The process of making a coil spring is based on the precise judgment of our craftsmens. At Tokai Spring, we never stand still; we are always looking to take the next step.