Question 東京タワー 2009/2/4(Wed) 9:42
Thank you for your reply the other day. I have a few more questions and I would love to hear your answers. I am currently studying the difference between SUS301 and SUS304. 1. Which one has better workability? 2. Which is better in terms of cost? 3. Which works better as a spring? Thank you.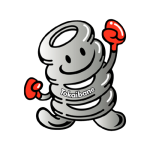 Answer Tokai Spring 2009/2/4(Wed) 17:40
Thank you for your inquiry, Tokyo Tower!
Stainless steel strips, SUS301CSP and SUS304CSP, are all metastable austenitic steels. In cold working, the strength as the workability of the steels increases due to the work hardening of austenite and the occurrence of induced martensite.
However, SUS301 has a higher degree of work hardening than SUS304, and if it has the same hardness, it requires less workability in cold rolling and has better bendability for the same hardness.
Also, SUS301 has higher strength than SUS304 even at the same cold rolling ratio, and has a large elongation when compared with the same strength, so SUS301 is said to be suitable as a spring material. Since susceptibility to changes in cold rolling conditions requires strict control in manufacturing, SUS304 has the advantage that changes in spring performances due to changes in cold rolling conditions are small and stable.
So both types have their own advantages and disadvantages.
Unfortunately, the cost is uncertain because it depends on the shape dimensions and the production quantity.
Thanks again for your inquiry!
We are happy to answer any inquiries regarding technology, specifications, materials, etc. Please feel free to ask.